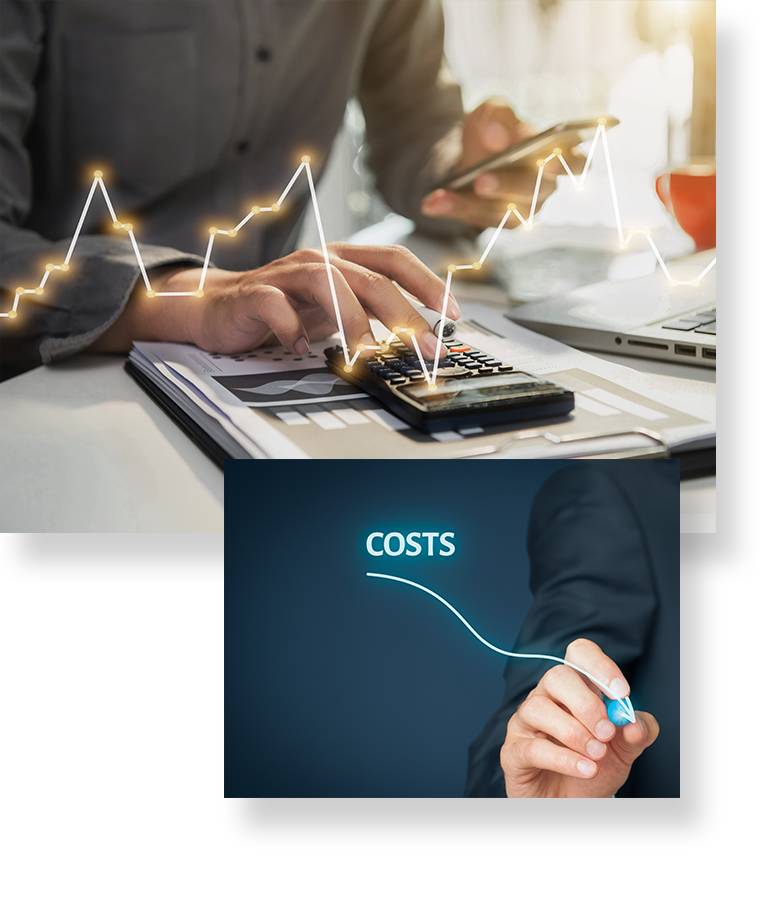 As consumers become increasingly more digitally mature, their daily activities are transitioning to digital at a never before pace – right from small ticket, high frequency interactions like buying groceries to big ticket, low frequency interactions like planning travel. Alongside, there is an increasing expectation from consumers for individual and contextual customer service across channels where they are present.
While the world is moving towards digital, and omnichannel experience has become the key to success, IGT believes that the importance of human element will sustain across the customer journey. Rather the human element will have to be re-focussed on cases requiring functional or technical expertise; social empathy and higher value services to ensure superior customer experience while maintaining cost efficiency.
These two factors of increasing movement to digital while retaining the lens of human empathy has created a need for contact centers to continuously adapt to new technologies like AI/ ML and RPA, while evolving agent service delivery ecosystem. AT Kearney in a recent study found that AI and RPA can reduce the amount of time customer service agents spend on regular processes by up to 25 percent by 2020 and by up to 40 percent by 2027 which means the agents would be free to focus on more value driven tasks which require human intelligence and decision making like up sales, cross sales, resolving complex queries etc.
Utilizing its 20 years of expertise in providing Customer Experience to some of the world's leading brands in the travel and ecommerce, IGT has designed its DNA around Customer Experience 3.A (Cex3.A) that plays a key part in setting up smart contact centers equipped with the right talent and advanced technologies.
It brings together three key levers for superior consumer experience: Smart Agents, Smart Automation and Smart Analytics.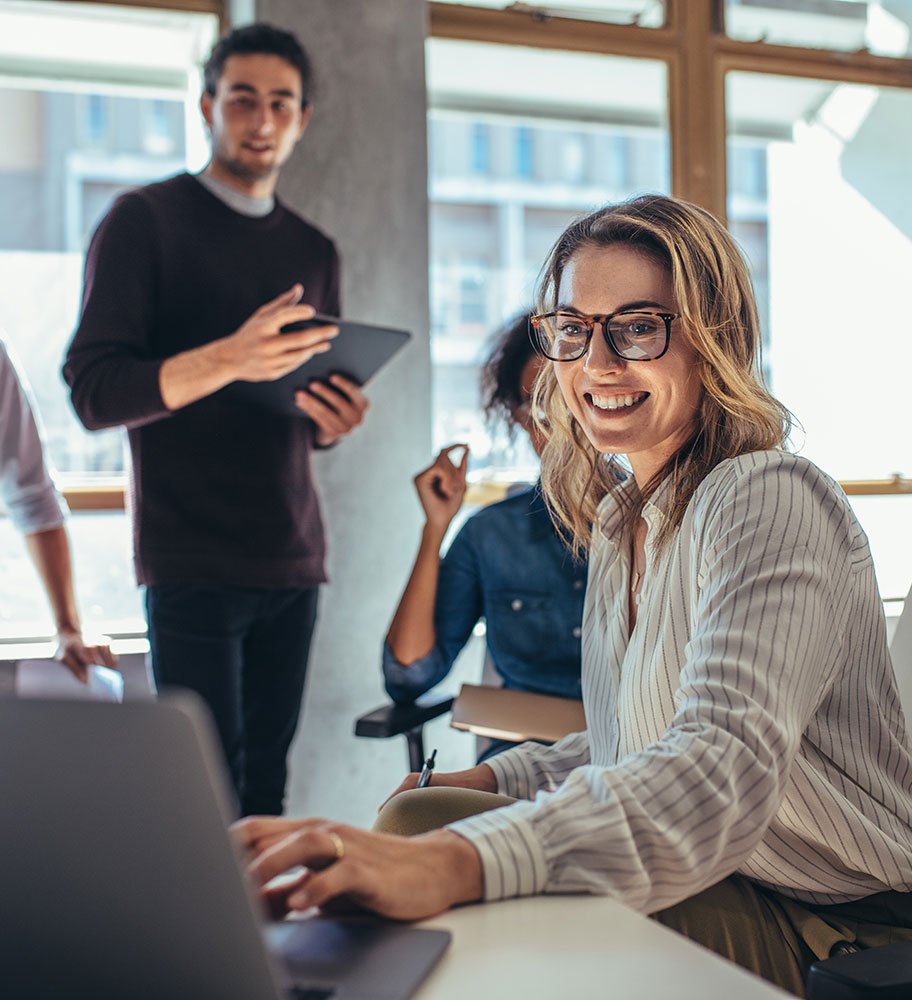 Human centered, AI enabled
---
The concept revolves around enabling the agents in a way that they can fulfil the core need of emotional quotient for customers by ensuring human empathy is at the fore front of every interaction while being supported by the right tools and technologies to ensure the right service with minimal customer effort. There are two key pillars to ensure the same:
Hiring and Training:

This can be achieved by getting access to the right pool of people across locations through digital hiring and then training them not just on the functional and technical specifics but also on emotional quotient through modules like cultural training, customer journey deep dives etc.

Tools and Technologies:

Supporting the agents with an end-to-end CRM solution to provide seamless digital engagement and consistent customer experience is key to run an omni-channel contact center. It enables brands to leverage their "Single View of Customer" in a coordinated and strategic way where righ

t object (

Cases, chats, leads, and social posts) is sent to the right people at the right time with the right supporting information.
CX centred Automation solutions
---
Automation can act as a two-pronged enabler for success. Firstly, it can help ensure that agents perform at the highest operational efficiency by reducing transactional activities. Secondly, it can also help in reducing the call volumes by increasing the factor of self service for basic customer queries. Some of the key use cases being:
Process Automation
Automate repetitive and operational tasks like accessing customer information during a call to reduce customer waiting time
Intelligent Chatbots
Al enabled platforms using natural language processing to conduct smart conversations
iConverse
Conversational enablement and automation to manage digital conversations where bot and agent interplay for an enhanced customer experience
CX toolbox supported by AI, ML and NLP
---
Data is the new gold is highly applicable in the setup of contact center. With increasing amount of customer/ employee data being generated it becomes imperative for organizations to utilize the same not only to increase operating efficiency but also to deliver highly personalized services to customers. Some key opportunities for organizations are as follows:
Customer Analytics

: Focuses on analysing previous interactions and other associated information for the customer to help across the following areas:

Agents have access to customer history to ensure progress and consistency in response

Recognize key problem trends and insights to plan and size operations better

Understand the overall customer ecosystem to recognize key needs across the purchase journey

Agent and Process Analytics

: Agent productivity analytics and process analytics are key in recognizing levers to continuously improve CSAT levels and overall cost efficiency. Some key use cases being:

Continuous analysis of volume can help recognize key use cases for self-service such as password reset etc

Recognizing areas of improvement for agents and incorporating them in the training

Quality Analytics

: Ensure consistently superior quality through speech and text analytics, video surveillance analytics and root cause analytics to drive QC team's effort in identifying causes and problem areas to work on.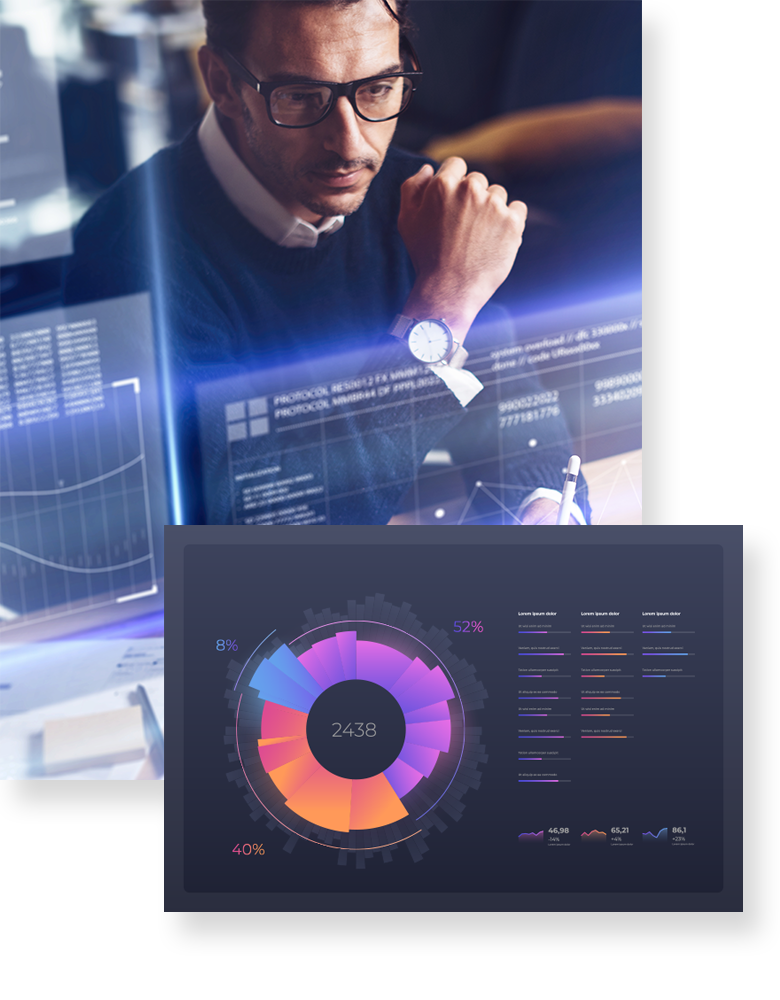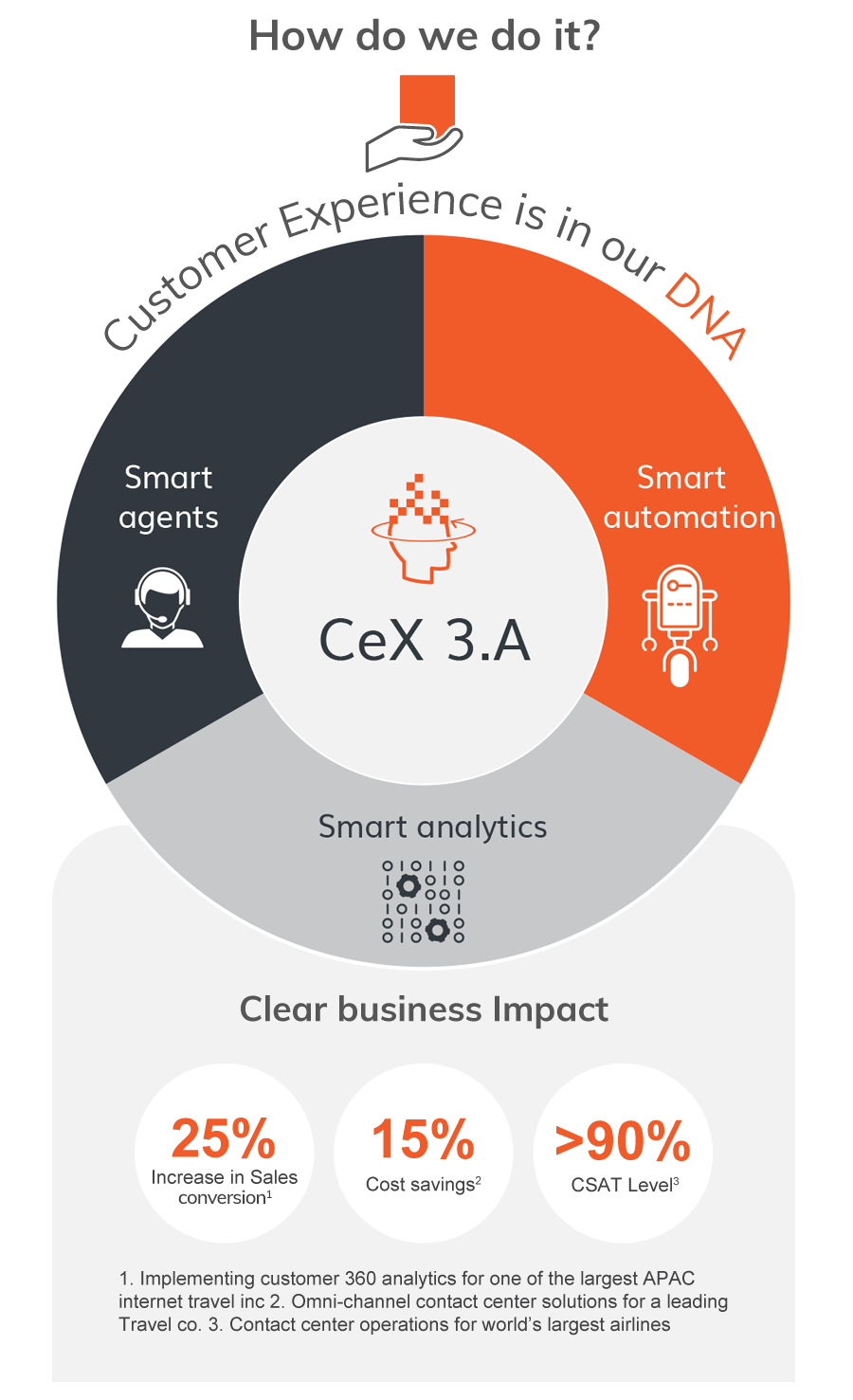 Through our contact center offerings centered around our CeX 3.A framework, we can help our clients in this journey towards being future ready by recognizing the right use cases and achieving high customer satisfaction and revenue growth while keeping the costs in control.
Fill in your details below. Your information is safe with us.